Do you want to support Black Owned Business in the New Orleans Region? Locals and Visitors, use these guides to locate exactly what you are looking for.
Easier to use than a full directory or book, we created short guides for different occasions.
For Locals:  Stay-cations and Getting the Necessities.
For Visitors: Vacations for groups of all types and visitors in town for conferences.
Family Friendly Stay-cation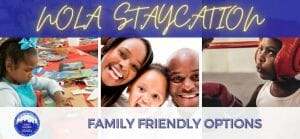 Are the kids getting restless at home? Or maybe you're just looking for something fun to add to your schedule. Here's a quick guide for 3 days of exploration for families of all sizes to enjoy.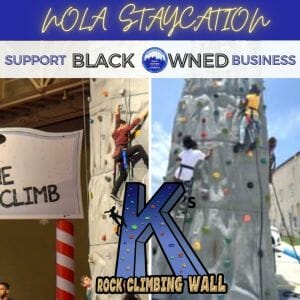 On Day 1, Bring vacation fun to your front door with K's Rock Climbing Wall. Birthdays, Family Reunions, or just because... Whatever the occasion, add some fun activity to your day.
Up next, have lunch at Cafe Reconcile and follow that up with a show or a tour of Ashe CAC, both located on historic Oretha Castle Haley Blvd.
Cafe Reconcile has some of the best food in the city and they also include culinary arts training to local teens and young adults.
Smothered chicken or turkey necks, paneed pork loin just to name a few of the delectable dishes.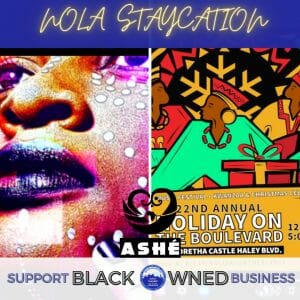 After eating your fill, stop by Ashe CAC for some music or theater or just to view the museum.
In addition to fabulous exhibits, Ashe offers the Kuumba Academy, featuring a range of activities like African drumming, dance, cooking, STEM, digital skills, entrepreneurship, and more!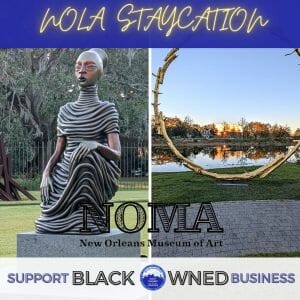 On Day 2 of your Stay-cation, start off the day at the Sculpture Garden of NOMA at City Park.  Walk through the art and create stories for the various figures. Storytelling is a great way to teach kids how to connect with works of art.
After the walk, take the smaller children to the playground and maybe have beignets and coffee.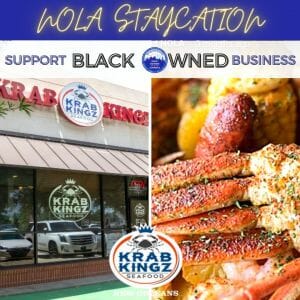 For dinner, you cannot beat Krab Kingz at 6600 Franklin Ave! Their menu features Cajun-style seafood with an explosive taste including shrimp, lobster tails, Krab clusters, and sausage.
After eating your fill of delicious seafood take a walk to the lake or if the UNO Privateers are playing, catch the game at the Lakefront arena.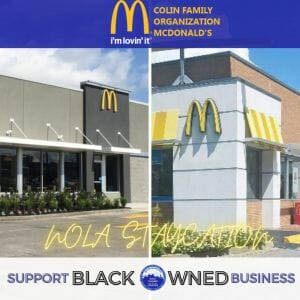 To wrap up the adventure on Day 3, stop by any of the six locations of McDonald's owned by the Colin Family Organization on the Westbank. Franchises are an excellent business opportunity, and we encourage those interested to research these options.
After the cheeseburgers and fries, take a short drive to the Jean Lafitte National Park. A boat tour is a great way to learn about nature and get some fresh air at the same time.
For more ideas like this, be sure to follow us on Instagram: @nolablkchamber
Do you know a place that should be added to this list? Email: communications@norbchamber.org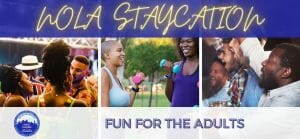 Here's a mixture of ideas, from the soothing to the active, food, music, relaxation and more. Have the staycation you crave and support locally owned, black owned businesses at the same time.
Restaurant guide added to the end of the list.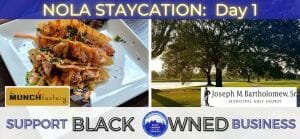 Start off your Staycation with a savory brunch at The Munch Factory and then a walk around the beautiful Joe Bartholomew golf course. Interested in a game? Take a cart, rent some clubs and have a blast on the green.
Not into golf or a stroll? Then maybe move on to the Day 1 evening options below.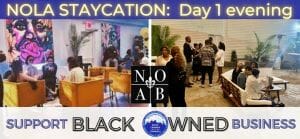 Spend a relaxing evening browsing books, enjoying the beautiful patio while sipping on fantastic drinks in a creative atmosphere at Nola Art Bar. This bar doubles as a bookstore and next door is the Baldwin and Co coffee shop.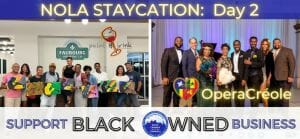 On Day 2, let's get creative with Paint and Jrink. Join a class, have some amazing cocktails and paint together in this beautiful space on Chartres St.
Follow that up with a show at Opera Creole, Visit operacreole.com to view their Show calendar.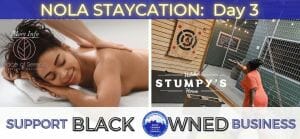 Perfect combo for releasing stress and tension. Visit Peace of Serenity Massage and Spa to soothe your body. Follow that up by releasing some aggression, throwing axes at Stumpy's Hatchet House.
The combo of healing touch and physical activity is sure to leave you feeling relieved.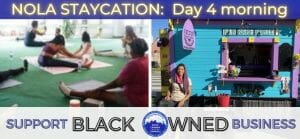 Day 4, we offer healthier options for a holistic conclusion to your stay-cation. Join The Ohm Well for a yoga or meditation class downtown. After, take a stroll to the Louis Armstrong Park and grab fresh juices and other beverages from Sober Bar Babe, a New Orleans original concept beverage truck by Rhadell.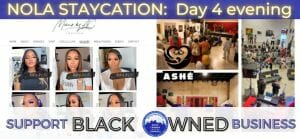 Wrap up the weekend with a trip to Makeupby AC, for makeup or shopping therapy at Giselle's Vintage shop. Get a fresh look and then catch a show at Ashe CAC.
Visit ashenola.org to see their calendar or just stop by to view the exhibits in this gorgeous space centered on Black History, Art and Culture.
Whenever you or your crew starts craving something tasty, here are our top picks. Each is located near at least one of the activities above.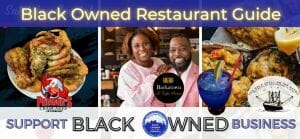 PeeWee's Crab Cakes - 4500 Old Gentilly Rd, NOLA 70126
Backatown Nola - 301 Basin St, NOLA 70112
The Half Shell on the Bayou - 2517 Bayou Rd, NOLA 70119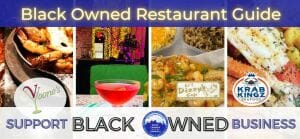 Vyonne's - 412 Girod St NOLA 70130
Lil Dizzy's - 1500 Esplanade, NOLA 70116
Krab Kingz Nola - 6600 Franklin Ave, NOLA 70122