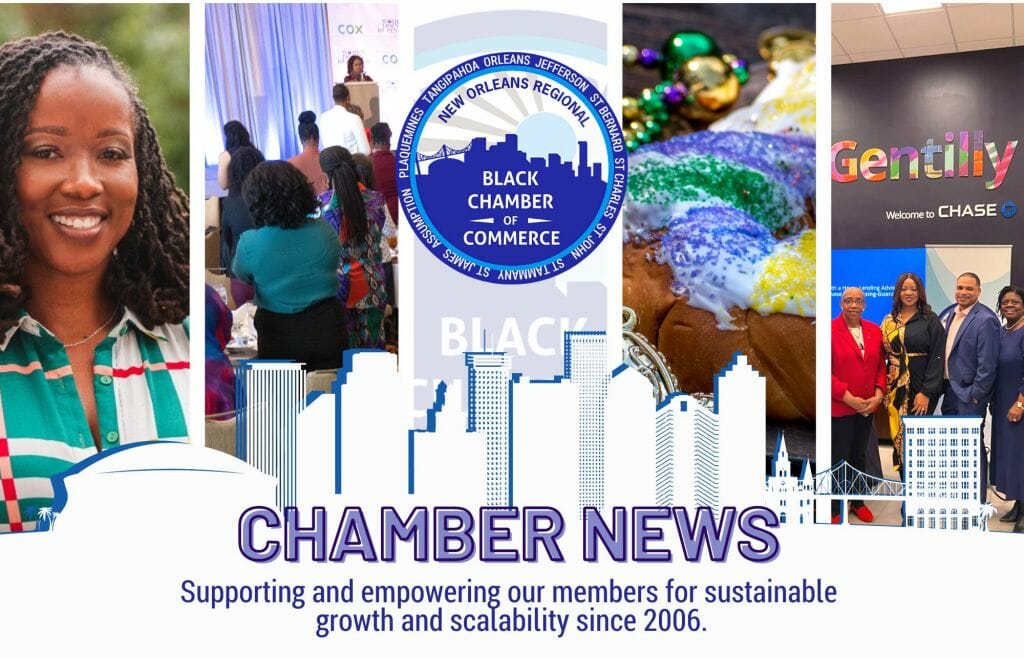 Stay up to date on events, opportunities and more on our social media pages.
Reserve Your Spot The 3rd Annual Women in Business Conference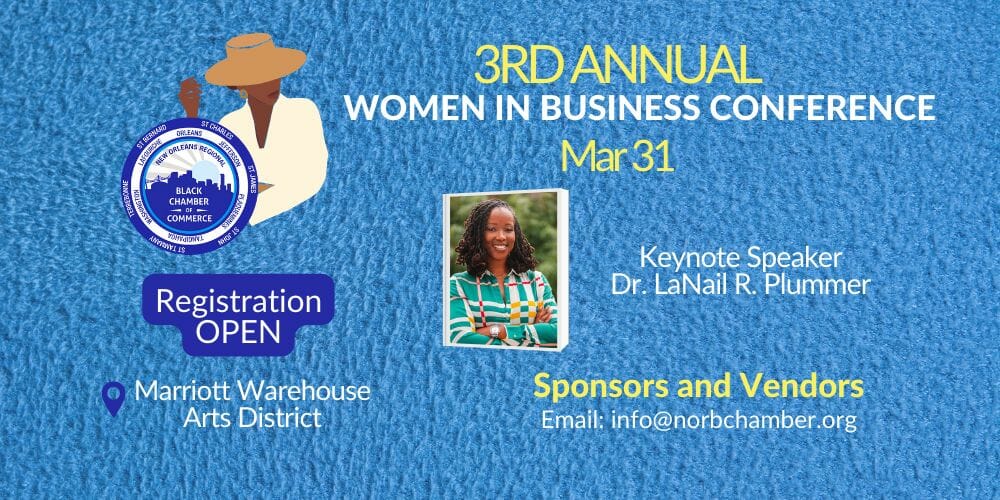 Here is a peek at a few things you can look forward to at this year's conference.
This year's conference will explore experiences in various industries, corporate, nonprofit, and the entrepreneurial journey, and discuss strategies for resilience.
We are excited to announce collaborations with Nolavate Black and Baldwin & Co. On March 30, Nolavate Black and NORBCC will host a Women in Tech Luncheon: a fireside chat, music, networking and programming that promotes solidarity and healing.
Baldwin & Co is curating a booklist for the conference and will be on-site as well with a curated selection of books to choose from. Stay Tuned for updates on the booklist as Mar 31 gets closer.
This year we continue to honor empowered women of impact with the Rose Nicaud Excellence Award. This award is presented to a woman who has demonstrated achievement, growth, and success in a particular industry. The recipient understands the importance of innovative ideas, education, competent decision-making, mentoring and community service. She is known to many as a woman who has made a difference in the business community and her profession.
More details on how to submit a nomination to come soon.
Reserve your spot as a sponsor or attendee by clicking HERE.
Historical Locations in Southeast Louisiana - St. Mary's Market - New Orleans

New Orleans is so rich in history, every block has a story to tell. Here is one of those stories featuring Black Owned businesses.
Have you ever visited the CBD and noticed a large brick facade with the title "St Mary's Market" at the top? This is in fact the location of a historical landmark in New Orleans.
St. Mary's Market was managed and operated by Black and Indigenous women starting in the early 1800s. These business women sold various products and earned a consistent income despite the oppressive system of pre-Civil War New  Orleans.
"By 1865 the first St. Mary's Market had moved to Tchoupitoulas, between North and South Market streets extending to the river with its large (400 by 42 foot) brick structure supported by iron columns, and plastered with a slate roof."* "Making Groceries in New Orleans-online"
The remaining structure sits at 345 St. Joseph St.
Submit your ideas for places to highlight by emailing: communications@norbhcamber.org
Interested in more ways to honor and celebrate Black History? Check out this list.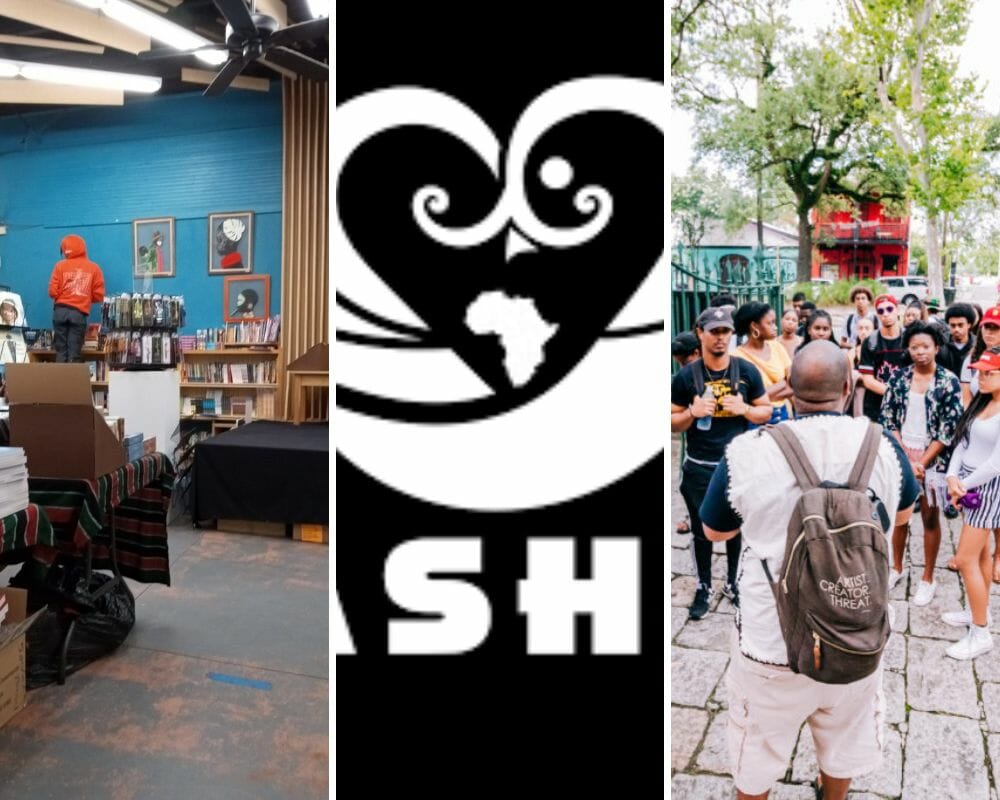 Ashé Cultural Arts Center uses art and culture to support human, community, and economic development.
Community Book Shop focuses on African-centered books, art, fabric, gifts, community events, and more. The shop is located on Bayou Road, a historic hub for Black businesses and commerce.
Hidden History Tours is a publishing, research, and touring company that works to uncover New Orleans' untold stories, with a focus on Black struggle, oppression, and revolution.
Know NOLA Tours offers an intimate experience with the "real New Orleans" and specialize in Black Heritage tours and subjects centered around New Orleans African Diasporic culture. Immerse yourself in the rich culture and heritage of New Orleans outside of Bourbon St. because "To Know NOLA is to Love NOLA."
Project Butterfly New Orleans is a local group that is devoted to women and girls of African descent in the community. The website offers information about its various culturally-rooted programs and workshops.
Sista Midwife Productions is New Orleans-based birth advocacy organization that provides education, training and consultations for communities, birth workers and organizations that work with childbearing families. Their Midwife Directory helps connect patience with Black midwives, doulas, lactation specialists, or wellness practitioners.
Our Mammy's shares the stories of Louisiana's African Americans through the lens of the founder's ancestors?what they contributed, how they survived, why it's important?so that future generations can understand what was sacrificed and be inspired by all the ancestors have accomplished in the face of adversity.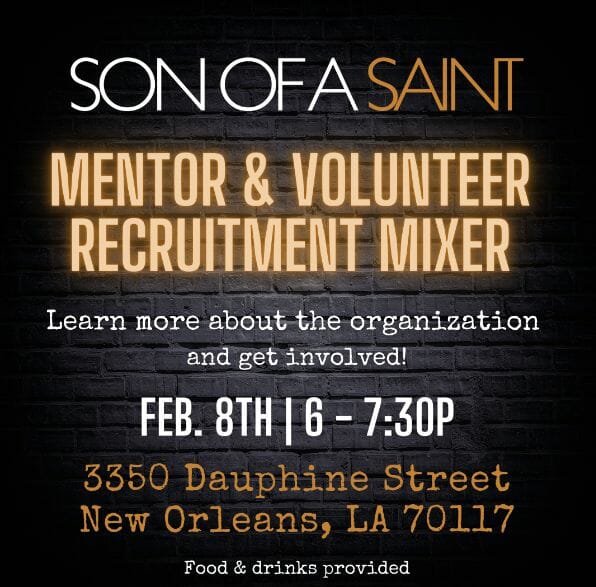 Son of a Saint is an organization that fosters mentorship of New Orleans' fatherless boys. What began in 2011 with mentee participants of 10 boys has now grown to 200 young men, all doing the important work of mentoring and improving the lives of young boys and men who are fatherless in the New Orleans area.
This organization holistically supports young men ages 10 through 21, giving them a range of services including mentorship, education, mental health services, and service-learning opportunities.
For additional information on Son of a Saint and their program opportunities and enrichment activities, or to get involved, visit www.sonofasaint.org If you'd like to become a mentor or volunteer for Son of a Saint, you can start the application process here: www.sonofasaint.org/join
The recruitment mixer will have music, fun, food by Chap's Chicken, and helpful information. There will also be an opportunity for attendees to network and become a mentor or volunteer.
RSVP is required. Click HERE.
How and Why to Register as ByBlack - Be a part of Black History and Gain Access to Resources and Capital Alotted Only for Black and Minority Owned Businesses
How to register is simple. Click HERE.
Here's are the 3 major benefits of the ByBlack designation: 
At ByBlack, our mission is to create meaningful economic opportunities for Black people through the Black businesses in our communities.
Our Black-owned business certification is a pathway to new opportunities. Providing our reviewer team the data points we need to certify your company establishes you as a trusted vendor and potential partner.
Attention on Your Business
Our partners at the United States Black Chambers Inc. (USBC) receive daily requests from local & federal government agencies, corporate partners, and everyday consumers who want to spend money with Black businesses they can trust. We source directly from the certified enterprises in this database to support those conversations and facilitate meaningful relationships that create revenue.
Get the Badge
The ByBlack Badge is the official seal designating a business as Black-Owned and Operated. It is awarded by the U.S. Black Chambers, Inc. & ByBlack.us Platform. Once awarded, your business can feature this badge in marketing communications, email signature lines, websites, print materials, and social media posts.
Grants & Potential Funding Programs
The USBC helped give away almost $5 million in grants to businesses in 2020. We expect local chambers, corporate sponsors, and the USBC to give away even more in-kind funds, economic support, and business opportunities in the year to come. Becoming certified enables us to help ensure your business has access to these opportunities when and where they're happening.
For more info and to register as a Black Owned Business with ByBlack,
Click HERE.
How to get the most from your NORBCC Membership - Benefits of Membership with New Orleans Regional Black Chamber of Commerce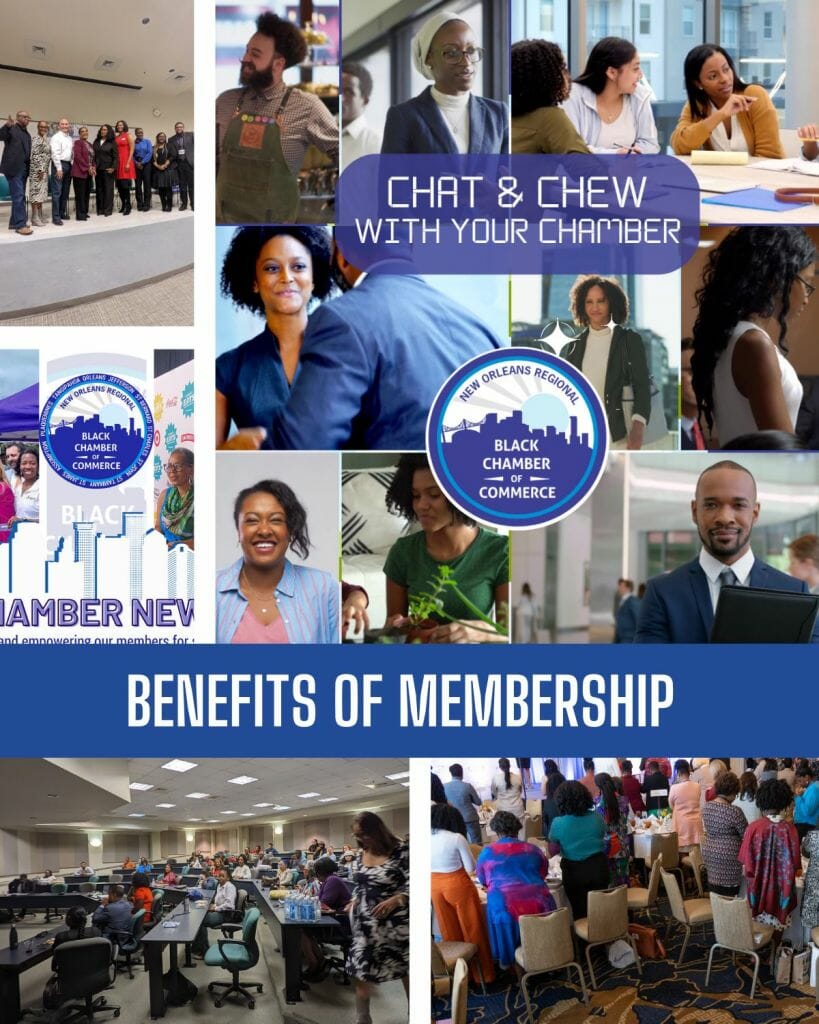 Members have access to inclusion in the Chamber's digital and printed directory, promotion via our features on social media and web, vending opportunities during several events throughout the year, curated opportunities to network and learn from experts, access to coaching and resources for development as well.
How can you make the most of your membership? Give us a call to explain your needs or to ask how to participate in any of the above. Stay tuned to our newsletter, event calendar and social media pages for announcements.
We encourage you to start first by visiting your profile on the chamber site. Log in and add your details, images, video and anything else that would be helpful. Our directory is frequently visited by locals and tourists who want to support you! Let's showcase your business properly. If you need any assistance, email membership@norbchamber.org or communications@norbchamber.org
MEMBERS: Click HERE to visit the page and login for full access to your page
NON-MEMBERS: Click HERE to learn more or sign up for membership.
Applications Open for Maroon 2023 Small Business Development Program Cohort
Applications Open for Maroon 2023 Small Business Development Program Cohort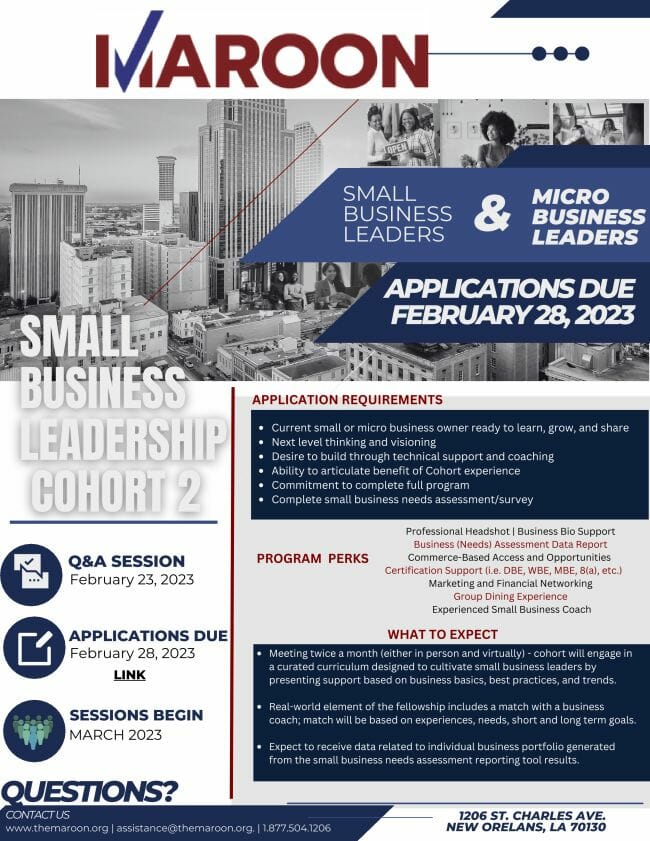 Maroon 2023 Small Business Development Program Cohort 2 Fellowship
Today, we are pleased to announce that the application for the Maroon 2023 Small Business Development Program Cohort 2 Fellowship is now available. Frustrated with the lack of representation for Black Americans and safe spaces to build community, Maroon built a home for changemakers to foster innovation, collaborate with like-minded people and embrace equity.
The goal of Maroon is simple: build more black-owned business through a community of kinship, alliance and power.
For this Cohort 2 experience, we are accepting micro businesses with fewer than five employees and less than $250,000 in annual revenue and small businesses with as many as 150 employees and up to $5 million in annual revenue. Cohort 2 will comprise of a 8-month fellowship that provides technical support, networking opportunities, real world experiences, and coaching to small and micro business owners.
The goal of the program is to position small and micro business owners to scale up their businesses, to survive and thrive, and to effectively navigate real world situations. Sessions will begin March 2023.
Application Process and Informational Webinar
If you are a small or micro business owner, and you are interested in applying for this amazing opportunity, please click on the link to complete the application by Tuesday, February 28, 2023.
If you have specific questions, the Maroon Small Business Team will host a Cohort 2 informational webinar and Q&A session on Thursday, February 23, 2023, at 5:15 p.m.
Begin your application by clicking HERE.